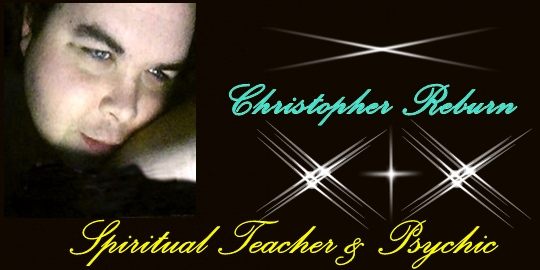 LEARN HOW TO MEDITATE
Class with Christopher Reburn
Hello Spiritual Friend,

As many of you know, I am a meditation advocate and I know very well how important meditation is for me, and for all of us on our spiritual journey. Meditation truly helps to unlock the key to the soul, and when you meditate properly, it can release a tremendous amount of stress, negative energies, long runs of 'bad luck', and so much more. What I've uncovered over the years is that a lot of people want to meditate, but they don't really know how to start or where to begin. Meditation is a lifesaver for so many of us and is the key to making powerful connections to the Other Side and beyond. Join me this summer for a one hour meditation class geared to your specific spiritual needs, and I'll share some of my very own meditation exercises and give you some great examples for you to use for your spiritual meditations. Finding spiritual peace begins with meditation!
I'm so excited to unveil my new and improved one hour meditation classes. I'm finally ready to begin teaching them and I've made sufficient room in my schedule to accommodate all of you who are ready to learn, and take the next step on your spiritual journey.
If you've taken one of my courses before, or have wanted to take one, this one hour meditation class would be great for you!
I look forward in sharing this spiritual adventure with you!
With Peace & Love,
Christopher
TOPICS TO BE EXPLORED DURING THIS CLASS include:
-Learn how to meditate
-Uncover blocks that may be preventing you from meditating properly
-Feeling a sense of spiritual oneness with your meditations
-Making stronger connections to The Other Side using meditation
-Finding ways to strengthen your meditations
-Communicating with your Guides & Angels during meditation
-Christopher's favorite meditations
- and more!
REGULAR CLASS FEE: $99.00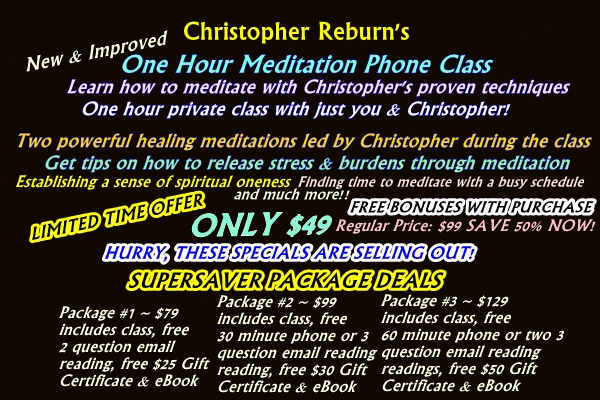 SPECIAL $49 OFFER: Reserve your class today and you'll save $50 off the regular class fee, plus you'll also receive some great free bonuses with purchase! Limited Spaces available for this special offer. This offer likely will sell out before it expires on July 31! Offer ends when sold out.

CHOOSE FROM AVAILABLE CLASS DATES IN AUGUST, SEPTEMBER & OCTOBER 2016

FIRST 50 PEOPLE TO REGISTER WILL BE ENTERED TO WIN A FREE 3 MONTH COURSE with CHRISTOPHER!

TO REGISTER FOR THE $49 SPECIAL OFFER,
click the 'BUY NOW' button below!
FREE BONUSES WITH PURCHASE: FREE $20 Christopher Reburn Gift Certificate & FREE Holidays in Heaven eBook

SUPERSAVER PACKAGE DEALS

Option #1 ~ $79 (Save $85!)
includes my One Hour Meditation Class
FREE Two Question Email Reading
FREE $25 Christopher Reburn Gift Certificate
FREE Holidays in Heaven eBook

Option #2 ~ $99 (Save $100!)
includes my One Hour Meditation Class
FREE 30 Minute Phone Reading or Three Question Email Reading
FREE $30 Christopher Reburn Gift Certificate
FREE Holidays in Heaven eBook

Option #3 ~ $129 (Save $180!)
includes my One Hour Meditation Class
FREE One Hour Phone Reading or two Three Question Email Readings
FREE Christopher's 'Learn How To Meditate' CD
FREE $50 Christopher Reburn Gift Certificate
FREE Holidays in Heaven eBook
FREQUENTLY ASKED CLASS QUESTIONS
Question: Are these courses private or done with a group of people?
Answer: All of Christopher's classes and courses are private, and they are one-on-one, with just you and Christopher!

Question: Are these classes done in person or over the phone?
Answer: To allow more people to take advantage of his courses, Christopher does all of his courses over the phone in a private, one-on-one setting. Christopher offers a variety of times available for his courses. Once you reserve a course, we'll be in touch with you as soon as possible to get your classes scheduled with Christopher!
Question: Is this class only available during August, September & October 2016?
Answer: Yes, Christopher's meditation class will be only be available during those months and will not be offered again for some time
No gift certificates or discounts of any kind will be accepted on this already heavily discounted offer. All sales are final. There are no refunds or exchanges.