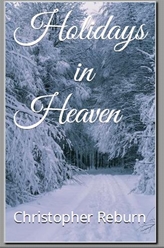 'HOLIDAYS IN HEAVEN'
HERE's JUST A FEW OF THE INITIAL REVIEWS OF MY NEW BOOK!


As Good As It Gets!!
Christopher Reburn continues to light up the world with his amazing gifts of love and insight.
You will want to share this wonderful book with family and friends
I wish I had this book years ago
Christopher's amazing book changed my perspective dramatically.
Beautifully Reassuring
I am a big fan of Christopher Reburn, so I just had to get his book. I found his explanations of the spiritual world to be enlightening & reassuring. From what I know of Mr. Reburn, I believe his message, and his mission, is to help people. Anyone interested in the spiritual side of life would like this book. It would also be very helpful for them if they have experienced the death of a loved one, that continues to cause them grief. Heaven sounds like a rocking good time! I don't think we're in any danger of boredom when we get there! That was very fun to find out!
Five Stars
Loving, calming, assuring.......great gift for anyone!


Inspiring and touching
A very beautiful and moving book


Explore life on The Other Side with Christopher during the most festive time of the year! Find out what our loved ones do during the holidays, how they connect with us, the signs they send us and so much more! Includes an exercise on how you can connect to a loved one on The Other Side as well as a powerful healing meditation for you to use!

AMAZON TOP 20 DEBUT!

People from all over the world are loving
Christopher's new book, now it's your turn!

GET YOUR COPY NOW FOR $0.99!
I hope that you enjoy my book!
Love & Thanks from
Christopher