Welcome to Christopher's LightWorkers Circle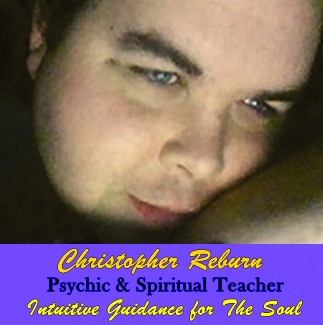 Members of Christopher's LightWorker Circle enjoy exclusive perks and priviledges including members only benefits:

Exclusive 20% Discount off Select Readings
This benefit pays for the entire cost of the membership with just a few readings a year!
Enjoy $24 off hour phone readings, $13 off half hour phone readings and $12 off full email readings!

Exclusive 10% Discount off Select Spiritual Services & Products
including Past Life Assessment Readings, Home & Land Clearings,
Christopher's CD's & Journals!



Exclusive 5% Discount off All of Christopher's Courses

including the 4 Month Psychic & Spiritual Course, 3 Month Advanced Course,
3 Month Mediumship Course & the NEW 3 Month Advanced Mediumship Course


$25 off a Past Lives Assessment Reading with Christopher!

Enjoy an exclusive $25 discount off a past lives assessment reading with Christopher. This reading details a few of your most influential past lives and can bring answers to current concerns and questions.


Advance Notice of Lectures, Appearances & Courses
Christopher's courses are run throughout the year and are always quick to fill up!
We'll alert you first, before the general public, and you'll enjoy a special presale where
you'll be able to reserve your space before they sell out! A limited number of presale tickets
for VIP seating at lectures will be available for members to purchase for select lectures and appearances.

Save 20% off Christopher's Gift Certificates

Always a year-round favorite, Christopher's gift certificates never expire &
they make the most perfect gift for holidays, family celebrations, birthdays, graduations,
weddings & more!


$25 off a Course with Christopher!
Ready to take the next step in your spiritual journey? Enjoy an exclusive $25 discount
of your choice of any 3 or 4 month course that Christopher proudly offers!
View available courses at http://thepsychicspirit.com/spiritght.html

Members Discount Special Offers
Enjoy a monthly product or service from Christopher's catalogue
at an amazing discount that's available to our members only!


Members Only 'Ask Chris'
This is an interactive part of my website where I answer spiritual questions each month from members and the general public. This members only Ask Chris section allows our members questions to be placed in a priority pool that are selected at random before we pull questions sent in from the general public.

Members Only Personal Questions Chat
Every year we have an online interactive member's event which gives each active member the opportunity to ask Christopher 1-2 personal questions in a "members only" group setting. A $40 value!

Members Only Private Email List
Enjoy special offers and insights from Christopher that are available nowhere else!

Spiritual Family Message Boards
One of the greatest learning tools in life is listening to others recount their stories and experiences in a protected and safe environment. Feel free to post, explore and respond to the various topics, stories and experiences in our message boards!

Monthly Free Reading Drawing
Each month we'll do a drawing of all current active members and one lucky member will be selected at random and will receive a reading with Christopher and will be notified via email.

$25 Gift Certificate
Enjoy an exclusive $25 gift certificate which you can use on any full-price reading or service that Christopher offers on his website at www.reburn.org
10% off Next Year's Renewal
Members receive 10% off when they renew their membership for another year!


ANNUAL MEMBERSHIP FEE: $49.95

To join, click the 'Add To Cart' icon below to complete checkout and
begin enjoying your membership benefits TODAY!

Discounts may not be applied or used towards the purchase of LightWorker Circle membership.
Additional benefits are being considered and will be added in future.
Membership benefits may be discontinued or changed at anytime without notice.
One discount and/or coupon per purchase. Discounts & coupons may not be combined.
Membership fees are non-refundable. All sales are final.
Certain restrictions may apply.

Questions? Email Membership Services at ThePsychicSpirit@aol.com