EXTENDED THRU AUGUST 7 BY POPULAR DEMAND!!
SUMMER SPECIALS ENDS AUGUST 7 at MIDNIGHT!
$65 Past Lives Readings (Save $60)
$45 Half Hour Phone Readings (Save $20)
$75 One Hour Phone Readings (Save $45)
$20 One Question Email Reading (Save $5)
$45 Three Question Email Reading (Save $20)
$70 Five Question Email Reading (Save $55!)
CLICK HERE to reserve yours now!

TAKE THE NEXT STEP ON YOUR SPIRITUAL JOURNEY TODAY!
The time to Embrace, Define & Develop your Gifts is NOW!
CLASSES AVAILABLE NOW!
LIMITED SPACES AVAILABLE!
4 Month Psychic & Spiritual Development Course
3 Month Advanced Psychic & Spiritual Development Course
3 Month Mediumship Development Course
3 Month Advanced Mediumship Course
3 Month Healing Course
3 Month Angels & Spirit Guides Course

3 MONTH ANIMAL COMMUNICATION COURSE


3 MONTH REAWAKEN! REACTIVATE! COURSE


3 MONTH PARANORMAL COURSE


3 MONTH GETTING OVER GRIEF COURSE

​
SPACE IS VERY LIMITED!! ONLY 10 PARTICIPANTS PER COURSE!!
Courses are done over the telephone in a private, one-on-one setting with Christopher!

CLICK HERE
for more info!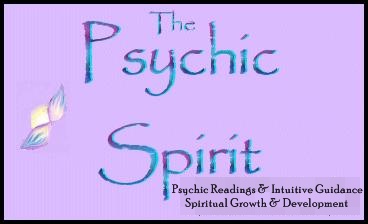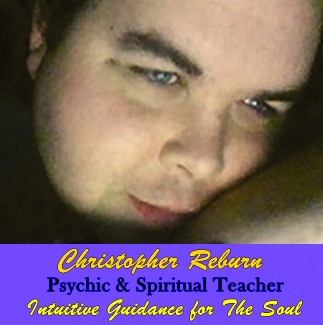 Christopher Reburn is genuine. He's caring, professional and is sensitive to his client's needs. Christopher's highly-developed psychic abilities have enabled him to help people of all ages and backgrounds define and deal with their life problems and situations by offering his psychic insights and spiritual healing.
Christopher is a internationally renowned and respected clairvoyant psychic medium, healer and spiritual teacher with an impressive twenty year-plus track record of accuracy and helping people live a more spiritual and positive life. Christopher has helped thousands of people worldwide with his indepth, accurate psychic readings, intuitive guidance and spiritual counseling on Lost Loved Ones, Romance, Good Fortune, Life Themes, Totems, Finances, Past Lives, Reincarnation, Career Path, Health, Unsolved Crimes, Missing Persons, Hauntings, Ghosts, Dreams, Pets still living and Pets that have crossed over, The Unexplained, Spirits, Spirit Guides, Messages from The Other Side, Angels and much more.




CHRISTOPHER's MISSION:
For the past twenty years, Christopher Reburn has been on a timeless mission to help others. Christopher's first priority has always been and will always be to help others with his highly accurate and documented psychic abilities.

Christopher founded The Psychic Spirit organization for psychic insights, spiritual knowledge, growth and development in 2003. To date, Christopher continues to expand his spiritual mission, visions and gifts to help everyone within the universe who needs his assistance, and remains one of the strongest forces in the psychic, spiritual, metaphysical and New Age arena.
Christopher is on a mission direct from God to help everyone who needs his invaluable psychic insights, intuitive guidance, spiritual counseling, powerful healings and making contact with The Other Side.

Hailed by many of his followers as 'The People's Prophet', Christopher maintains a hectic reading and personal appearances schedule, but remains one of the most compassionate and accessible psychics and spiritual teachers to anyone, anywhere.
In addition to being a Psychic Medium, Christopher is also a Universal Healer, Spiritual Teacher, Animal Communicator, Paranormal Investigator, Life Coach, Children & Animal Welfare Advocate and Radio Show Host & Producer of the hit psychic and spiritual radio show
Conversations with Christopher.
Christopher teaches a thorough catologue of intensive Spiritual, Mediumship, Healing & Psychic Enrichment and Development Courses, with beginner and advanced levels. He has released 11 highly acclaimed Spiritual Audio CD's and he gives encouraging, captivating and uplifting lectures on topics relating to Spirituality, Psychic Phenomena, Angels, Spirit Guides and The Other Side.

Be sure to join Christopher's free email list today to keep updated with his mission, special events, special offers and more! Click the 'Join Now' box or link below to join. It's free!


Click to join ChristopherReburnEmailList
Do you or someone you care about need prayers and healings?
CLICK HERE to visit Christopher's Prayer & Healing Center to request prayers and healings to be sent to you
or your loved one, or call in your prayer requests to (727) 688-6084, 24 hours a day!